As part of the Children's University at the University of Natural Ressources and Life Sciences Vienna, the Institute for Transport Studies offers  Workshops since 2013. This year Kids were able to attend the Courses "How do you get around?" as well as "Hitting the streets at 80?"
How do you get around?
How well am I doing while cruising around on my scooter or my bicycle? How do I read the timetable of a bus or subway when the app doesn`t work? What are advantages and disadvantages of different means of transport? All children who were interested in these Questions got the opportunity to answer them together during thrilling parcours and quizzes. Besides they were able to count all their steps in the progress of the course and were rewarded afterwards according to their used energy.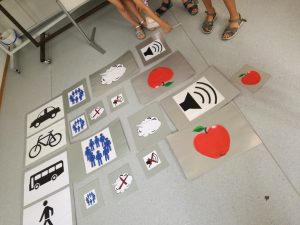 Hitting the Streets at 80?
How do my grandparents feel while moving through traffic? In which ways is mobility more difficult for visually impaired or handicapped People? This year kids were able to empathize with handicapped persons by tring out weight-suits, vision-blurring glasses, a wheelchair and a blind staff while trying to get through doors as well as up and down ramps and stairs. Furthermore the University presented its App "Was geht ab?" which can be used to rate the surroundings in the streets.