As part of the Children's University at the University of Natural Ressources and Life Sciences Vienna, the Institute for Transport Studies offers the following workshops (since 2013):
How do you get around?
Are you going by bicycle on your trip to school? Are you familiar with public transport? What's your favourite mode of transport? Together we will explore the meaning of sustainability in the field of transport. The focus is on your travel behaviour! Part of the workshop is a mobility "rallye" – you will visit a variety of different work stations.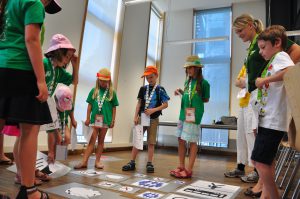 Let's count traffic!
How many cars are driving on the street? How many cyclists and pedestrians are getting around? How many steps do you make? You can answer these questions: Let's count traffic! We will show you how (and for what pupose) transport planners collect and analyse data!